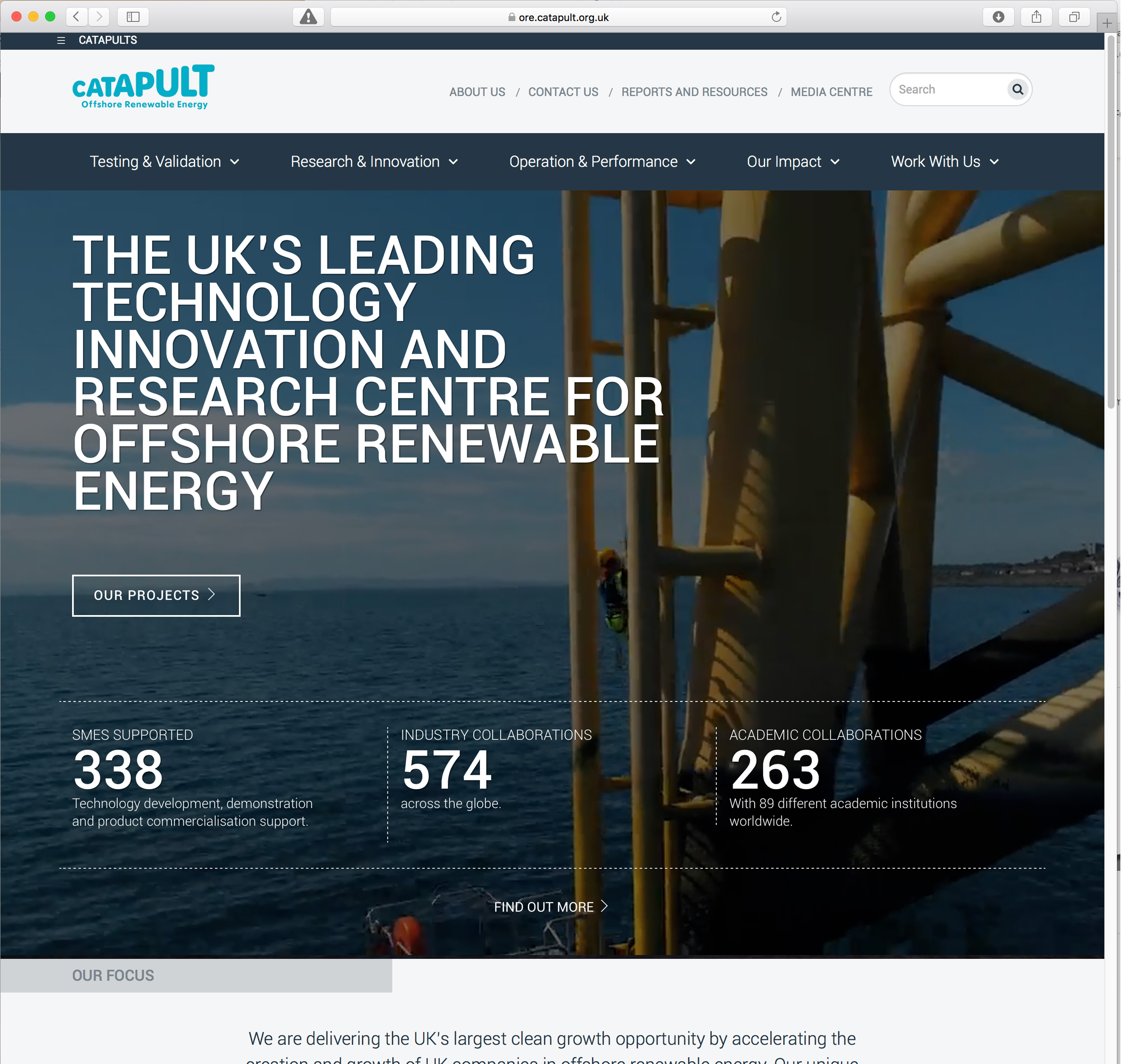 Offshore Renewable Energy
Features:
One of the many challenges an innovative company face as they scale and grow is the ever changing structure an scope of their digital requirements, Affinity were engaged by ORE to help them through this very issue. Engaging with ORE in their HQ in Glasgow, Affinity's specialist Discovery team were able to bring all the areas of the business together focusing on the future aspirations of the organisation rather than how they currently run it.
Whilst running focus groups with different organisation team members Affinity were able to flesh out the details and draw an accurate representation of how the organisational digital business objectives could be met. . Key Performance Indicators are intrinsic to the success of any project and Affinity worked with ORE's team to establish clearly identified and prioritised KPI's, like: The eradication of all digital content duplication.

Developed using the open source WordPress platform and custom theming, with bespoke content types and ACF (Advanced Custom Fields Pro). Allowing for the inclusion of relevant information with clear content relationships and strong calls to actions
By reducing the number of silo'd data sets created we where able to improve natural search rankings.
We adopted a mobile first approach to the UX and IA, presenting complex messages in a clean and easy to understand design, irrespective of the device being used.

A strong focus on clear simple navigation and information about upcoming projects, completed projects (stories) together with related case studies, mitigated the risk of this crucial information getting lost amidst the vast array of content on the site.

Affinity supports the Catapult websites on behalf of UKRI (UK Research and Innovation) formally Innovate UK.
ORE's website was no longer fit-for-purpose and Affinity won the contract to initially undertake a full Discovery process to do all the requirements gathering which included workshops built around empathy mapping, card sorting, user persona generation, one-on-one interviews, focus groups and on-line questionnaires.
We where then able to produce a comprehensive Project Specification Document (PSD) which included al lthe technical, functional and business requiremetns as well as a full site map, wire frames, design look and feel. Within the document we articualted the full UX and IA oif the proposed new website. We where delighted to then win the contract to develop the new website based on their existing WordPress platform.
As the support and maintenance agency for the suite of catapult websites including https://ore.catapult.org.uk/ we were ideally placed to do this and transition the site to live in an environment we know very well.
Project Details
Client
Offshore Renewable Energy via UKRI ( UK Research and Innovation) formally Innovate UK
Profile
ORE (Offshore Renewable Energy) is the world's leading offshore renewables technology centre
Project
Design and build their new corporate global website
Platform
WordPress and Umbraco
Sector
Energy research
Applications
CMS