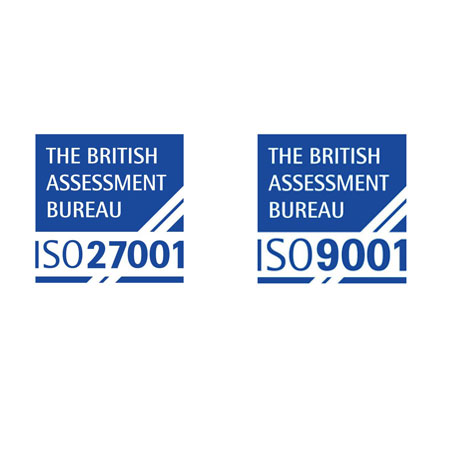 We did it! We are now the proud owners of not 1 but 2, internationally recognised ISO accreditations. A mammoth effort from the team, plus special thanks to Paul Jordan who has worked particularly hard to ensure that we achieved the ISO 9001 Quality Management Standard (QMS) and the ISO 27001 Information Security Management Standard (ISMS).
Both reinforce our dedication to not only investing in understanding our clients' needs but working with them to deliver rigorous yet swift business processes and robust security systems. These accreditations validate both our current and future business ethos, processes and security standards that we strive to live and work by everyday. In brief:
ISO 9001 - QMS
Two of the fundamental principles of this certification are a focus on customers – understanding their requirements and exceeding their expectations – and continual review and improvement of everything that we do as a business.
It explores and endorses the efficiency, productivity and structure of our business, so that our clients can rest assured that they are benefiting from the consistency and quality of service that we provide.
Client satisfaction is at the heart of what we do and the QMS achievement shows how we continually strive to review and improve the way we work to ensure our investment in the most advanced technological expertise and solutions are delivered to our clients.

ISO 27001 - ISMS
This widely-recognized international security standard shows our commitment to best practice security management and comprehensive controls. It positions us alongside the likes of Google, Microsoft and Xerox when it comes to security and customer focus.
We confidently manage our clients' compliance requirements whilst proactively identifying and managing security risks on an ongoing basis. This dedication provides our clients with confidence in their information security, ensuring trust and credibility is paramount.